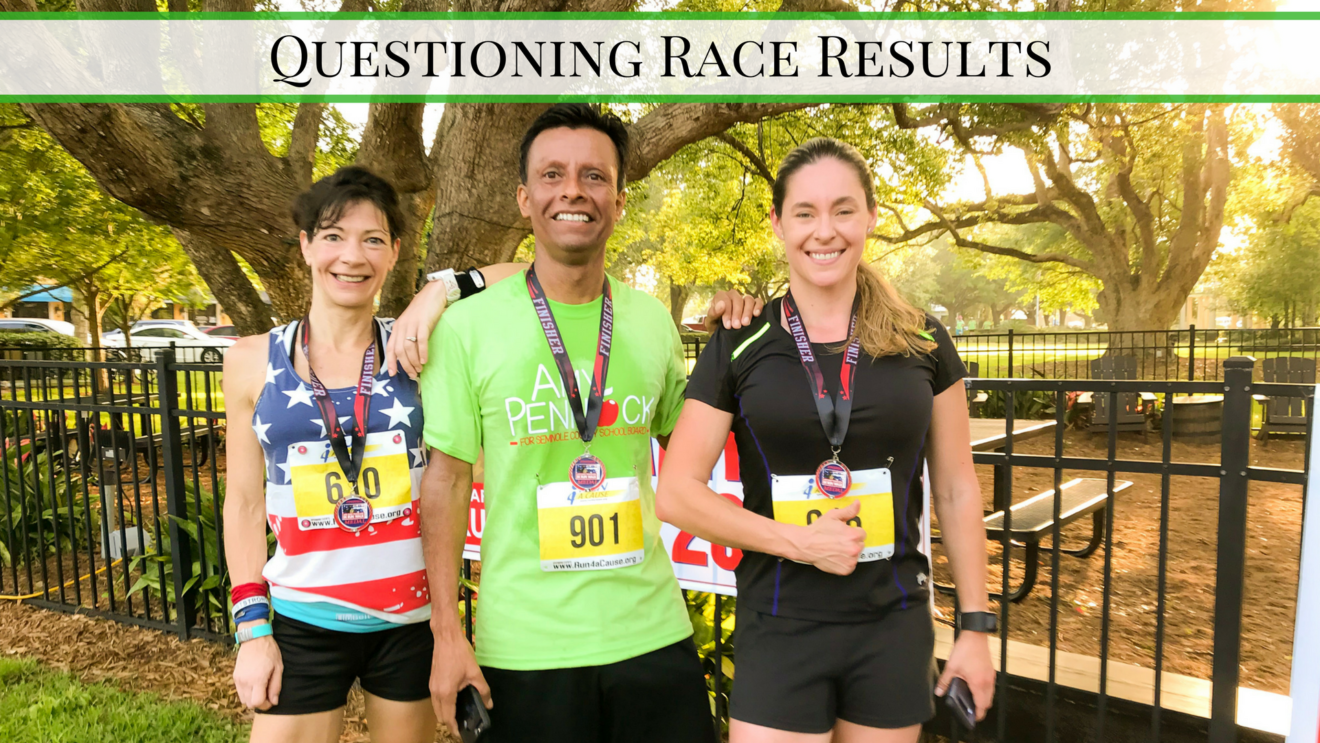 Can you trust the integrity of race results?
Everyone involved in a race relies on the integrity of race results.
Runners, sponsors, volunteers, charities, beneficiaries; all of us. So when race results are inaccurate, altered, subjected to errors, or anything that affects them in any way, the ramifications are widespread.
Imagine finishing a race that actually goes well and leaving, wishing you hadn't bothered.
Unfortunately, it can happen to any of us. And here's my story.
Is it really a big deal?
Well, you decide. Imagine you run your race and get a ranking in the results. Now imagine something interferes with those results – and this could be one of several possible reasons – and you don't get that recognition.
Sure, it can be fixed. But unless it's rectified before the results are called or officially posted, you never get that moment back. It's gone. And let me tell you from my experience, it leaves a bitter taste in my mouth.
Errors occur. Stuff malfunctions.  It happens. None of that was an issue in my case.
Then there are times when people know better and choose not to speak up. If the errors are not corrected in the moment, the experience is forever tainted.
I'll tell you what it does. It erodes your faith in a system you think you can trust. The integrity of the results and the race organizers that the runners rely upon takes a hit.
I Don't Want to Make a Scene. It's Only Me.
Are you sure?
It certainly affects you. It also usually has a negative impact on more than just one person because numbers work in sequence. You shift one near the top and the others all fall out of place.
There may be runners who never know they ranked or earned something because it didn't show. Perhaps they didn't know to ask. As a community known for its support and integrity, runners have an obligation to each other to make sure that anything questionable is laid out in the open.
You just don't know who may be impacted and perhaps had no idea.
The bottom line is: It's a big deal! It's unacceptable. And silence is condoning. You don't only make a statement of character by what you say and do; what you know and elect not to say, whether out of fear, pride or for your own personal gain smacks of poor ethics.
Omission of the truth, in full or in part, is deception. Deliberate deception. It has no place in our community.
Why I Chose This Race
I don't run many races because my current schedule is three marathons a year and that keeps me busy enough. A local 5K sounds quick and easy, but it's not my distance. I don't train for 5K's and my 5K pace is pretty much irrelevant to any training I do.
Besides, it takes me longer to get ready and to the event than it does to run the course.  So it's got to be pretty special to get me to the registration site.
This flyer showed up in my race swag bag a couple of weeks ago and I couldn't resist. I love the cause. This is in my local community and it's something that is important to me.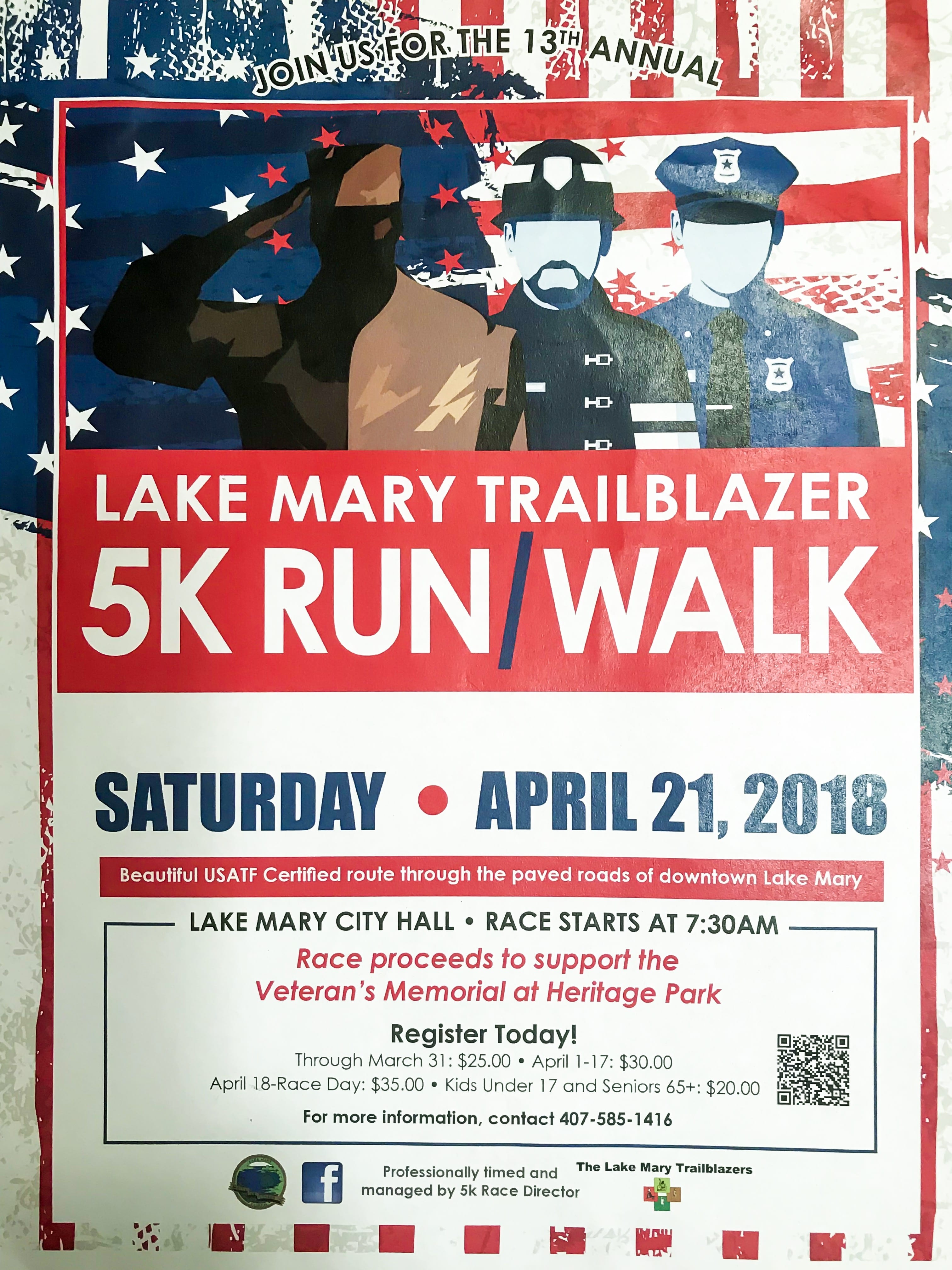 The proceeds from this event go to the local Heritage Park for a Veterans Memorial. I can walk past plenty of fundraisers. They are everywhere. But this one always gets me and I signed up as soon as I read the flyer.
I was pretty excited about doing something in the community. My last few marathons were out of state and travel is fun, but the people I meet there don't live here and it's always fun to make friends with runners I'll see regularly.
Everything Went Smoothly
I'm local to the race so it wasn't hard to get there, but for anyone coming in from out of town, directions were detailed and accurate, parking was plentiful and despite my early arrival, there was a buzz in the air as things were getting set up.
The absolutely fantastic DJ and Race Announcer – this guy is awesome – got the music going and kept us informed and entertained well in advance of the start time. The setting was pleasant, there was seating and indoor restrooms and pretty much nothing to worry about. Just find someone to chat to and have some fun.
The Mayor, a super fun guy, announced the start of the race, right on time.
And The Runners Are Off
This is by no means a large race and as you'll see from the times posted, save for a couple of the guys, not a competitive field.
The course is pretty. It runs through tree-lined residential streets and I settled into a happy pace and got lost in the run. I'm used to lots of people passing me at the start. The 5K race strategy is different to what you do with endurance running. I wasn't there to race it so I find my zone and settle in, speeding up gradually as I go.
There were no cones or markings on the course aside from an occasional arrow and the a Mile 1 and Mile 2 marker so I made sure I could always see at least one runner ahead of me to make sure I was headed the right way. Somewhere just before the 2.5 mile point I passed the girl who was holding a steady pace ahead of me for some time. She was breathing heavily and I said hi as I ran up alongside her but she had earbuds in and I guess she didn't hear me.
I like to find a buddy to run with for some chatter on the course. If you know me, you know all about my conversational races. But I also know not to bug someone with earbuds so I just kept to my pace and continued. A 5K is over so quickly. Approaching the finish chute I heard the announcer calling the first woman approaching. I could only see a guy ahead and realized it was me. I told you there wasn't a competitive field on this one. I'm a mile-muncher, not a sprinter.
The announcer was great!  He made crossing the finish line feel like such a great experience as he made reference to the appropriateness of my red, white and blue outfit for the event.
Some Random Weird Stuff and Post-Race Celebrations
My husband had gone for breakfast. He's not a runner and there was no point him sitting around so early in the morning. I was thrilled to see him waiting at the finish line for me and after receiving a medal and a cold towel (those are so appreciated in Florida!) we stepped to the side and started talking.
The second lady came in not long after me. It was less than half a minute. I heard the announcement while my husband and I were talking. Less than a minute later she came right up to us and smiled.
"Congratulations!" she said. "How old are you?"  I don't hide my age. It's on every race result and registration website. Nonetheless, I was surprised by the question and that it was almost blended into the congratulations, but I told her. I didn't ask her age but she volunteered the information.
"I'm 31 or 32. I don't remember." Well, OK then.
She ran a similar pace to me so she would make a good potential run buddy. She introduced herself as Mandy.
One of the main reasons I sign up for races is meeting people and making new friends. We added each other on Facebook. I was happy.
My husband walked with us as we moved toward the celebration area.  We spotted a guy we both know. I remember him from a recent race. He paces incredibly accurately and I'm impressed by his preciseness. It seemed like a fun idea to get a photo of the three of us together and my husband snapped a picture with each of our phones.
I didn't see Mandy again until it was almost time to leave.
The Unexpected Twist: Too Old To Win?
The DJ announced the award ceremony.
My husband and I had to make our way back to the front and while approaching, he called the over all female winner.
"Lee Beem.  Uh .. Mandy Nice."
Really?  She was right there and stepped right up to claim the award. I was then announced as the female master.  I went up, smiled for a photo and took it. At the time I assumed there was a mistake and it could be addressed later. In the middle of the ceremony is not the place and the guy handing them out is reading from a sheet, not running the time-keeping.
Besides, what do you do when you get something that isn't yours? You sort it out somehow. Not a big deal.  Or so I thought. Although I was completely taken aback that someone would actually claim an award that wasn't theirs. And why was my name called and then redacted?
Well apparently she wanted to enjoy her moment, posing for photos so I left it and was ready to go. I was unimpressed by what is really more than a little screw up but mistakes happen.
Initially planning to just leave, it occurred to me that if I had the wrong award, someone else would not get theirs. So I made a quick stop at the time keeping table.
The Beginning of My Running Race Results Investigation
This should be simple enough. We could check the results on the computer. I explained the mix-up. The guy standing at the timing table, Jim Reed,  has plenty of experience with races.
You can see him behind me on the right, in the blue, long sleeve shirt.  The big smile and thumbs up is our Mayor. He was fun! I like the Mayor.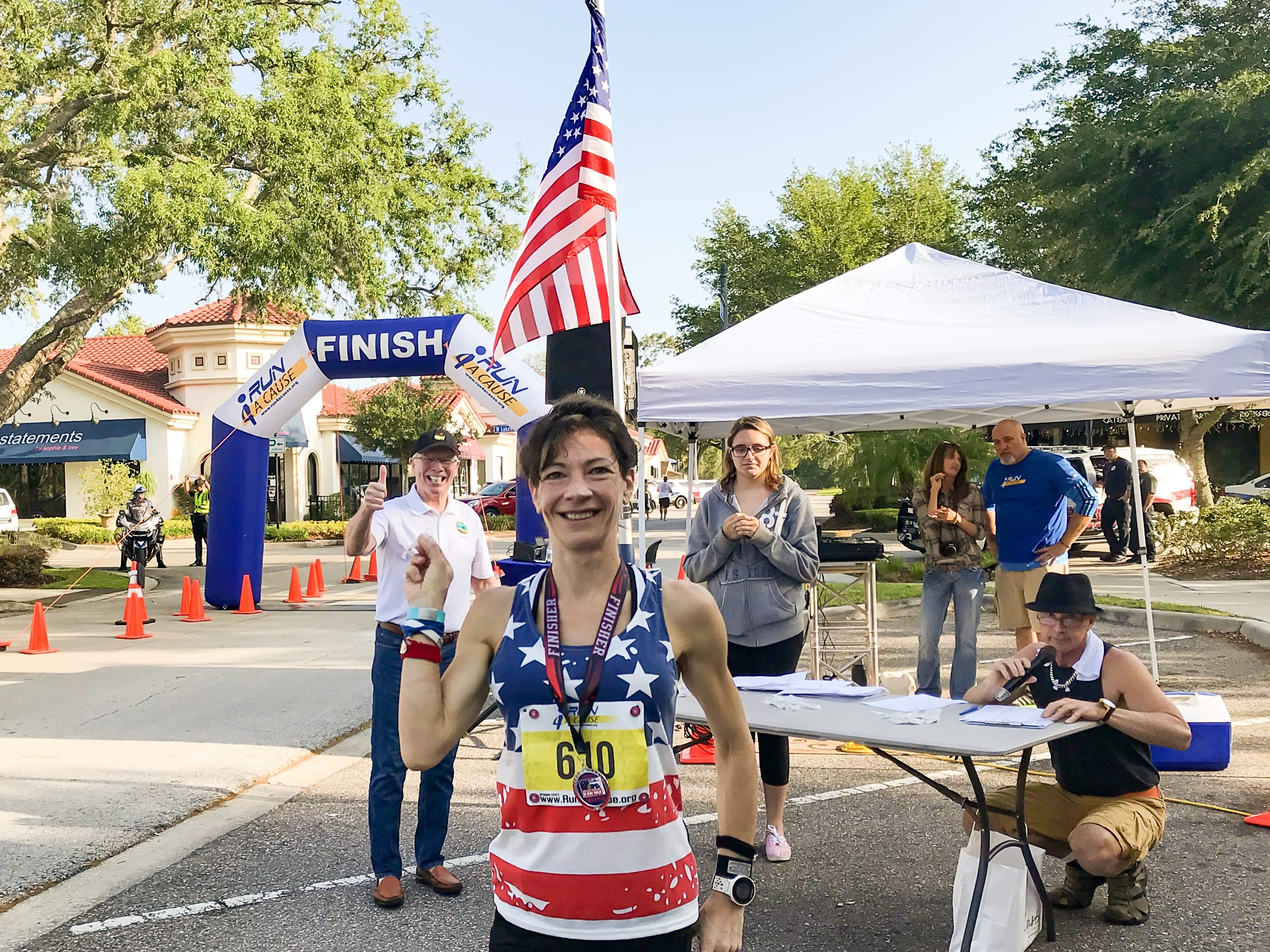 Mr Reed checked the results and I showed him the two names and times. He said, "Oh, so they should have been the other way around."  Well, yes. it's right there on the screen!  He told me not to worry about it. I wanted to ask what that meant, and was slightly irritated, but also just wanted to leave now. He was polite, but I didn't feel like this was up for discussion. There was nothing to discuss.
They would fix it before finalizing the results, I assumed. I mean, I brought it to his attention and he acknowledged it. I shook his hand, thanked him for his time and we left.
But I was not happy.
He offered no apology.  Just, "Don't worry about it." Dismissed. Unimportant. 
Jim Reed was very polite. And he also brushed me off. That may not have been his intention, but it certainly felt that way.
My husband and I got into the car. At this stage he was really annoyed at the lack of manners and integrity of someone who could walk up and claim a ranking that wasn't hers.
She made no attempt to work it out. This isn't old school manners, so don't try the old lady approach. This old lady still ran the race. It is simple courtesy and integrity. But I was pretty much done with this race now and wanted to get the hell out of there.
It felt like a waste of a morning I could have spent doing something else and simply made a donation for the Veterans Memorial fund.
It was hard to miss me at a small race in my outfit. Comments were made. There were questions.
"But wait, you were first."
"Hey, why didn't she get the first place? I saw her cross the finish first …"
Shrug.  I have NO idea. Oh, just let's get out of here.
Suck it up buttercup.  Your Achievement Has No Value.
A few hours later I checked to see if the final results were up. Because they would fix them since I'd raised the issue and it was acknowledged that there was an error.
Well the results were not fixed.  Now they actually stated Mandy as overall first, although the times were accurate for both of us.
Seriously, numbers are not that confusing. Three year old kids can put them in order. The sequence starts at 1 and progresses. I was 8 and she was 9 …. It really doesn't take anything special to see that when it's right in front of you. Really. It's not that hard.

In the early afternoon I got a message from a friend who noticed that I had removed my social media posts about my first place finish. I told her it the results were going to be fixed but I couldn't leave posts up making a claim that I can't back up. If I state a race ranking, time or anything else, anyone should be free to look it up for themselves.
And yes, runners do this because it's nice to check up on our friends and see how they have done.  My friend was shocked. Why did it change?
I briefed her on what had happened.  Why did they call you up and then change it? Was it scratched out?  Actually I wished I'd checked. The more questions people started asking, the more I resented going to the trouble to show up.
There were two things that really weighed on me. Firstly, someone who I assumed wanted to be friends, shamelessly claimed an award that did not belong to her.
Think It Doesn't Get Even More Screwed Up? Think Again!
While chatting with my friend about the events of the day, I was still in disbelief. However, as I answered questions she asked, the whole thing just got more and more weird.
"I can't believe the nerve!" she said. As she said this I saw a Facebook notification. Mandy tagged me in a post. Cool. We can chat about it and see what happened. I opened the post, expecting to see the photo we each had of ourselves and our mutual friend from after the race.
But that's not what was posted.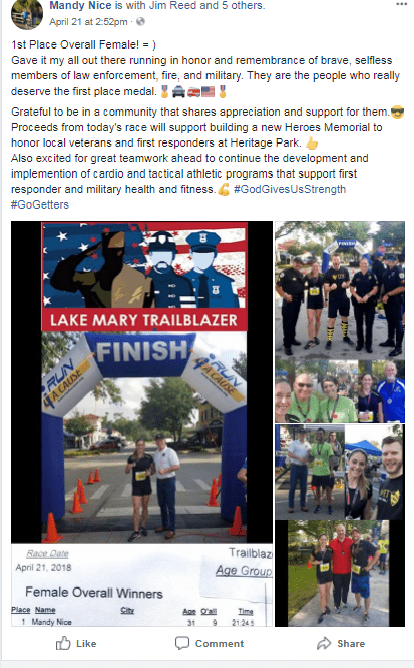 Notice how my name is cropped out of that little result snippet. You wouldn't want to post yourself as first with someone else ahead of you on the board.  A friend? That ship has sailed.
As for the reference to who deserves the first place medal, how about you leave that to the person who came first? It's just a suggestion.
I won't bother to post all her responses to the comments in there. Since it's a public post, you can go see for yourself, until she removes it. I untagged myself on Saturday because I really don't want to read all that insincere nonsense.
This is not typical runner behavior. I've never seen anything like this before. There's an unspoken code of loyalty and support. And yes, sometimes it costs you a bit of pride, but you always defend your honor and do the right thing by your fellow runners. And honestly, that is how I'm used to things working.
Trying To Get Information From Anyone Was Like Extracting Hens' Teeth
The real burning question I had was who changed the rankings during the ceremony and why? Was it hand written on the Announcer's papers he read from? I don't know. That's the trouble when you can't get answers. You start to think about stuff that seemed strange at the time and becomes more and more unsettling.
I found the DJ online. He was a nice guy and he was reading out the awards.  Since he was the one who called me out and then changed it (and this was all done through the speaker system), he might be able to help.
I sent a Facebook Message. I asked why the ranks changed and if he knew who changed them. He sent a friend request. I didn't hear back. Now just to be very clear and fair, the DJ was only reading what was in front of him. Perhaps he didn't want to get involved. Maybe he was busy and forgot. I don't know. But each time I ask the same question, it is ignored. The DJ / Announcer has no affiliation with the race.
There has been no attempt to answer it. Not even vaguely.
WHO CHANGED THE RANKINGS? The list was very clear on the screen I saw.
Mr Reed was at the timing table and acknowledged this. So was something written on the announcer's paper?
Every hour that slipped by since the race has ebbed away at my trust in the integrity of this event. Someone knows something. If it's your event, you find out. You get answers. You sort it out.
Too Many Questions, Not Enough Answers
Overall, this was a fun event. Right up until the screw up with the awards.  Now I want nothing to do with this event. Ever.
I have a few friends who are race directors. After deleting my earlier posts, I had not posted or mentioned anything about the change . I was so ticked at the complete lack of integrity. Now I felt like I was running my own running race results investigation.
I simply sent link to the results page and told them to find my name and comment.
Of the replies I received, each one included one of the following:
"WTF …?"
"That is screwed up. Did they fix it?"
"I have never heard of anything like this before. First is first."
The fun and games really began when I tried to find out who the Race Director is.  I could not find this information anywhere, until I eventually remembered I still had the flyer somewhere and saw it at the bottom, which helped with my search. My attempts to contact them through the website went to RunSignup. I got a message back telling me to go to the website and contact the race director. But all links took me back to RunSignup.
Eventually, after some sleuthing around online, I managed to find out that is is run by a company called 5K Race Director.
The event was timed by Run4aCause. Contacting these folk is a bit of a run-around, but I submitted a message last night and went to bed.
This morning I received a reply. Fairly early in the morning so it didn't take long to get back to me and I had sent my message on a Sunday evening.
A Response and an Apology
I was really pleased to hear back so soon. By this morning I didn't really want to hear about running, races or anything vaguely related. The whole thing and the way it was [not] handled, left a bad taste in my mouth. And there are too many strange things here. Too many personal connections between people.  All these folk at the race (and Mandy) seem to be connected in one way or another.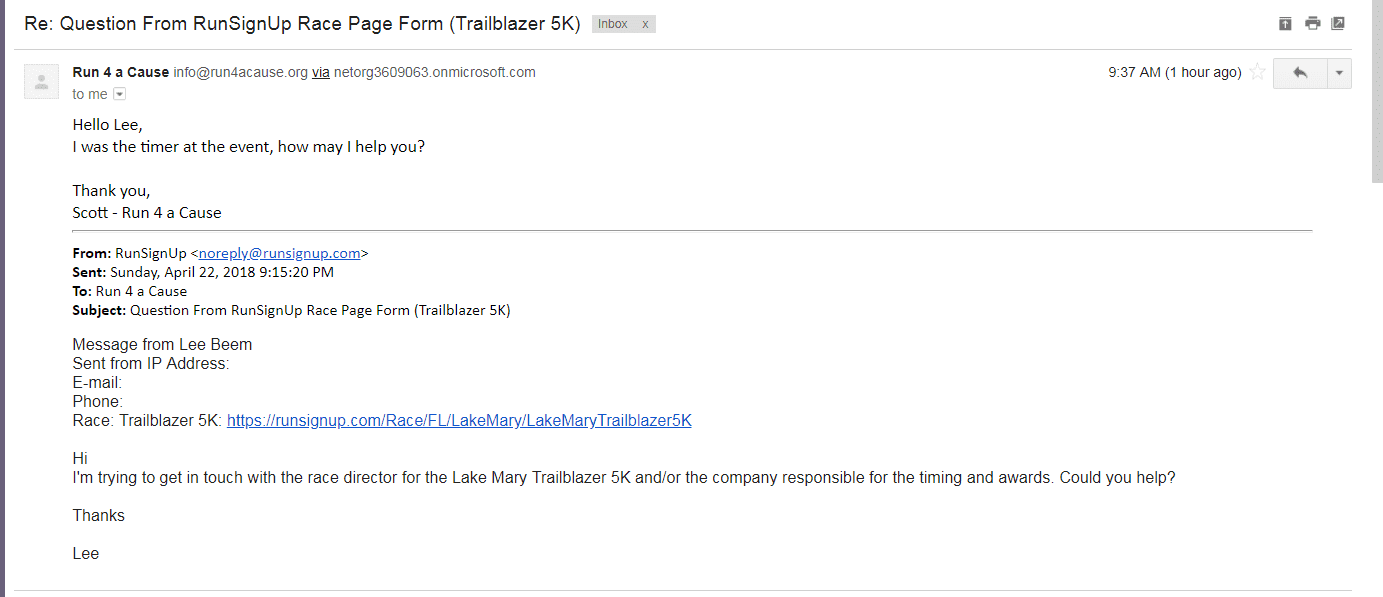 So finally the results were fixed. They were correctly posted when I checked after Scott let me know they were corrected. Just like they were on race day.
Here is the amended screen, reflecting the correct result page and rankings. Just as it was on Saturday.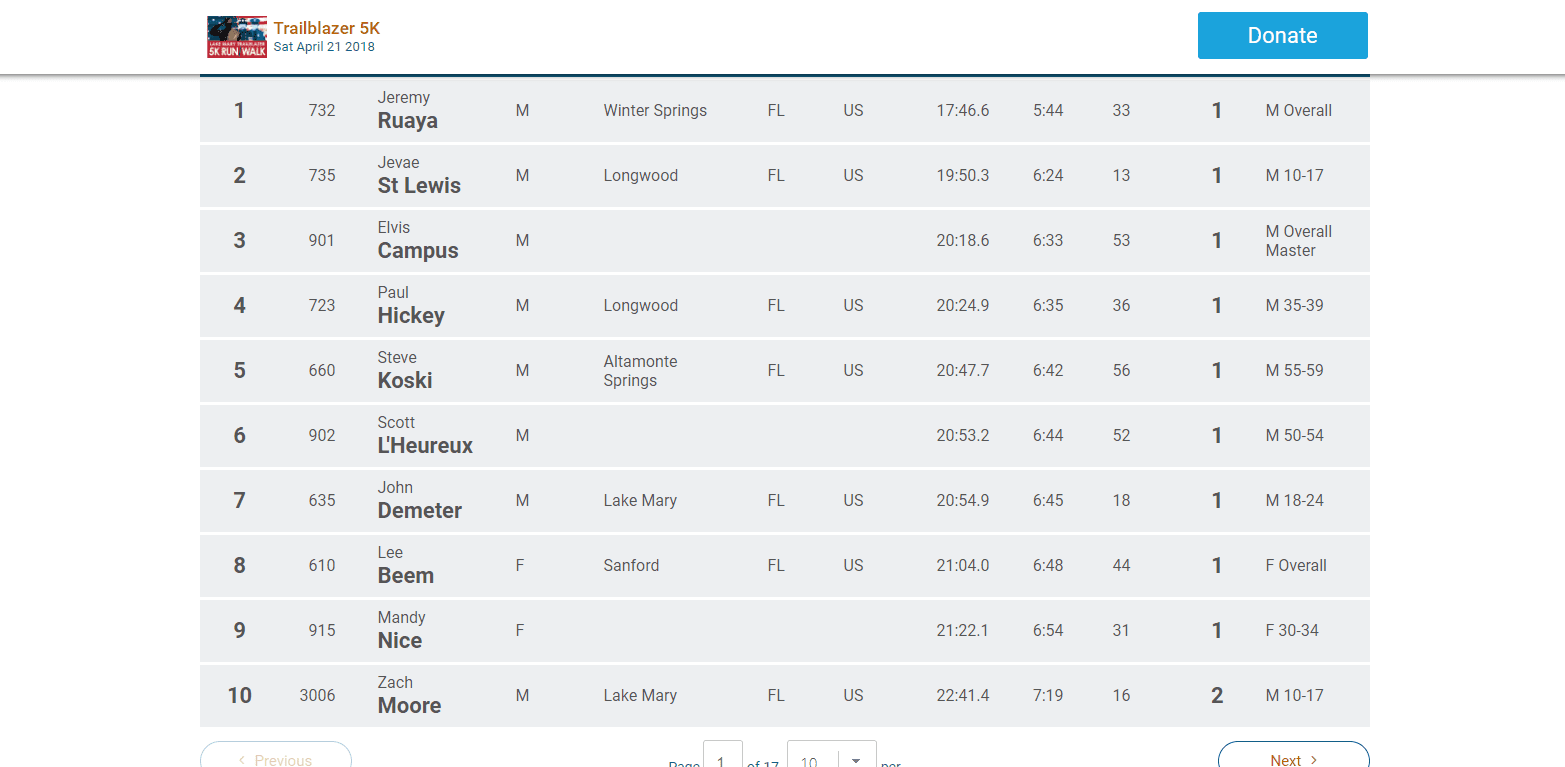 You can click through to the website to view them on there.
He did not, however, answer my question about why they changed. I asked again in a follow up and got the following message. I want to know why they changed them.

I appreciate that Scott took care of this so quickly. But it's too little, too late. Actually, there are more people affected because one change in the over 40's trickles through the age category. So someone, who will probably never know, was really the female master. And the lady who came fourth in the 40-44 age group, I presume, should have been third.
I don't know what sort of timing system they use. Seriously, you have to push a button to make first not be second? Whatever timing system is used for this sounds pretty screwed up.  In any event, this raises more questions because at some stage,during the race the button must have been in 'pushed' mode. And they they un-pushed it?
It makes no sense to me, so I'll leave it with them. But still no answer to my question: WHY WERE THE RANKINGS CHANGED?  They called me. Then they called someone else. Are you telling me after making a big fanfare at the finish about my outfit that they didn't notice?
Nobody questioned it or said, "Hold on. Let's double check quickly"?
Spectators and other runners noticed. Comments were made. Questions were asked. And nobody who was paying attention to the race from the helm batted an eye.
I find this really hard to believe.
So is it a big deal? You tell me.
Will the others who did not get their awards or recognition ever be contacted? And if they are, to what end? Their moment from race day is also gone. It's over. You see this happen in bigger races from time to time and it gets plenty of attention.  You can read the stories of runners who placed somewhere and it didn't count. By the time everything is resolved, it's almost irrelevant. It feels like an afterthought.
This is a small race. Perhaps they just expected or hoped I'd go away.
I really expected that race organizers and chip time companies actually have some kind of understanding of the world of a runner. But it appears not. This is business. Just another day in the office. Let's get the case closed so we can move on. We've got stuff to do.
While I'm pleased to have the correct results up, I have more questions. I have questions that will likely never be answered.  Maybe you can figure it out. I'm tired of thinking and want to wash my hands of this and walk away from it.
The Facts
Every time an answer shows up, it just digs up more questions. And when you ask the same question over and over and it consistently ignored, someone doesn't want to talk about it. When you don't know, you say you don't know. Make a point of finding out. Get the facts.  Just own it and sort it out.
Ignoring something repeatedly raises more questions. More so, it challenges any integrity that may remain.
Here are the facts.
We should be able to trust those managing race results.
The City of Lake Mary holds a high standard in presentation and services in the community.
The Mayor is a great guy.
I crossed the finish line first
First is first. Then the rest of the finisher flow from there. Everyone knows this. Race directors and time keepers know this.
The same person who called me out over the finish line called someone else up to the front to claim first overall female.
It's weird and rude to walk up to someone immediately after a race and ask their age. Why? To make sure they're over 40?
The folk at the awards table, the announcer, the timer, those standing around for the awards ceremony knew that the girl who took the first place award was not the first female to cross the finish line. If some of them didn't notice, fair enough. I don't buy it for a second that nobody wondered.
Claiming a race ranking that isn't yours is unacceptable. There are other factual words that fit in here.  Feel free to add them yourself.
No apology was made.
There was a perfect opportunity to simply make a quick announcement and correct an error in the moment as I went promptly to the timing table. Nothing.
I still have questions
Why were the rankings changed?
For what reason will nobody answer that one question?
Why was my name called and then 'corrected'?
Why did nobody say anything? There is no way you can possibly persuade me that nobody noticed. People there noticed and asked, yet those in charge didn't blink?
Why did I not get an apology when I questioned the results, when it was acknowledged that they were incorrect?
Why was I brushed off with no attempt to correct anthing?
After drawing it to the attention of Mr Reed, why did they not fix the results before posting them to the website?
If I had not been so persistent, would any effort be made to correct the error?
Was this a mistake?
Who knew about this? Someone knew. More than one someone, but at least one ….
The Outcome
The official results are now correctly posted. The damage is done. If I could change anything about the weekend, I would have stayed at home and skipped this event. Or if I wanted to run, a marathon pace 10 miles would be a better use of my time. There are plenty of ways I prefer to spend my precious little free time, rather than conducting my own little running race results investigation!
I want nothing to do with any future events involving Run4aCause or 5K Race Director. My experience with these two organizations is laced with lack of integrity and mistrust. I will find other ways to support the community.
Stuff happens and things go wrong. When they are drawn to your attention, you own them and fix them.
If I never run this race again, it will be too soon! There were some little things that were out of place in the moment, that create a sense of Something Just Ain't Right.
I do not trust Run4aCause.
I do not trust 5K Race Director.
Why the hell should I?
If You See Something, Speak Up
Honestly, experiences like this really taint the supportive and friendly running community. This is not a fair reflection on the sport I love. I will also not associate myself where I believe there is lack of integrity.
Sometimes, as in the case of those who did not get the correct award. Most of the time there are no issues. But if you see or hear something that just doesn't look right, say something. Even if it doesn't impact you, it probably has an effect on someone else. Don't wait for someone else to do it.
If I had not persisted, nobody would have known about this but me. Well actually, I take that back. There are people who know and for whatever reason, did not want to say anything. And yes, I was going to just let it go, but I am not going to stand around and watch a sabotage on integrity.
We owe it to one another to stand for what is right.