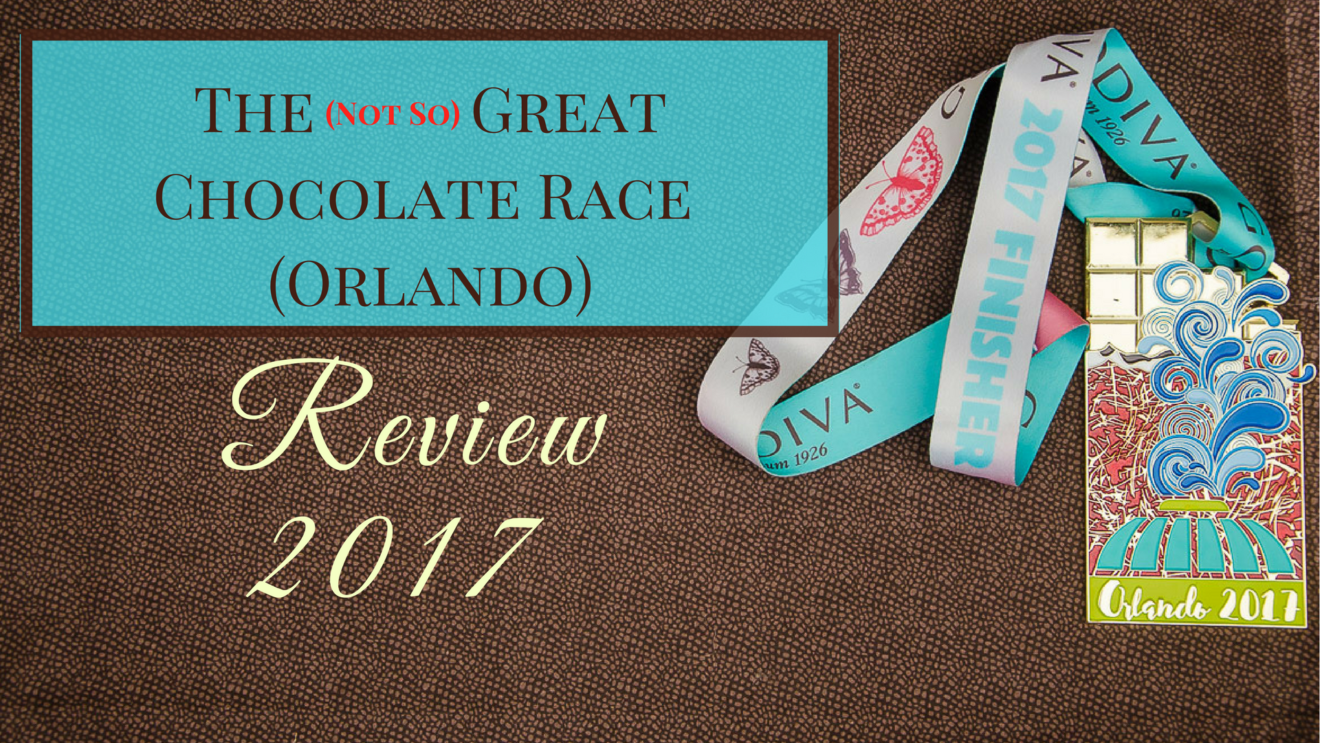 The Great Chocolate Race (Orlando) Review
Sometimes things go wrong and most of us understand that to some degree. The Great Chocolate Race is a national race series and hosted its second Orlando event on September 2nd, 2017. The race directors (I use the term loosely as there was no direction in the event at all) are Michael and Jodi Barder of Crucible Racing.
I was one of the fortunate runners who managed to get a fairly good experience on the course, but that's only because I didn't need anything from the race other than a good run with different scenery and hopefully meet some new running friends.  I got both of these.
Most runners had different goals and expectations and are not happy at all. And I don't blame them. This race could easily be written off as a complete disaster of an event.
If you ran The Great Chocolate Race in Orlando on September 2nd, please post a comment on your experience in the comments section below.
It Looked So Darn Good
Running for chocolate. How can you go wrong? The website is beautiful. I was drawn in pretty quickly to sign up and did so with the early bird registration in January.
The Facebook event page has been nicely maintained throughout and responses to messages are helpful and prompt. I also sent an email with an inquiry and got a response within an hour. I cannot fault race management on this. Communication and support score high ratings from my experience.
Packet Pick-Up
Emails were sent out to registered runners at the beginning of the week, confirming details for collecting race packets.
I sent a quick email asking for clarification on the start time.
The Facebook event page had the time as 7:30 am. Run Signup showed the 10 mile race starting at 7:15 am and the confirmation email said it was 7:00. As before, I got a very prompt reply letting me know that the 10 mile race would start at 7 am.
No problem. I just wanted to know what time to be in the starting area.
The race was on Saturday and we were given final details on Thursday with reminder notes about parking and the race day schedule.  I was going to collect my packet on the morning of the race, but the email notes warning about congestion and possible long lines due to an expected turnout of about 2000 runners, my husband suggested getting it the day before. I'm glad we did.
The Early Bird Catches the Detour
Seeing as my husband was heading out in the general direction of that packet pick up location early on Friday morning, we printed out the email with instructions for collection. He was surprised when he arrived at the running store to be told that he was not the first to show up there, but this was the wrong place. He had the store correct, but it was the wrong location. The address on the email was incorrect!
The actual running store handling the race packets was some eight or so miles away.
An updated email had been sent out that morning, after he left. I didn't think anything of it because it looked like a replica of the first one. There was nothing in the header to grab your attention, saying that this was an amendment or there was an error.
There was one thing that stood out to me about this race packet that is different from any other I've received. It was a clear plastic bag with a bib an a shirt in it. That's it. Oh, and four safety pins. Usually there are business cards and some samples or a pen or something from sponsors. I guess they didn't have sponsors.  It wasn't a big deal, but unusual enough that I noticed.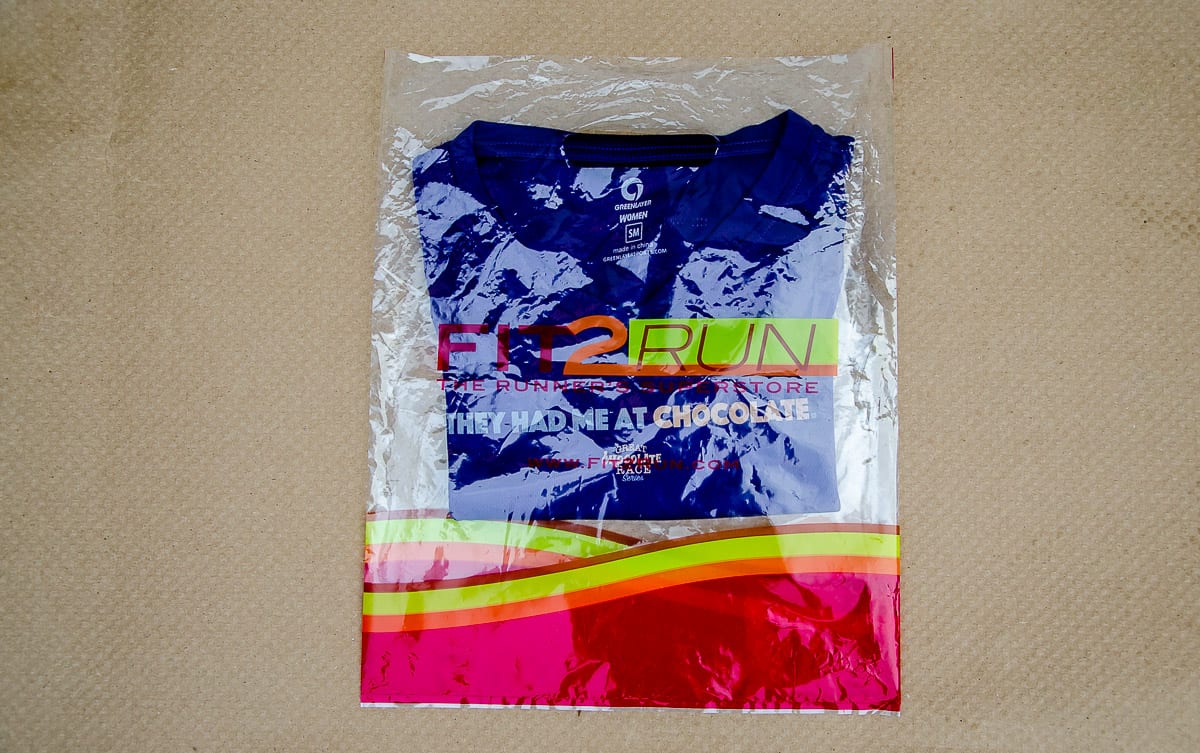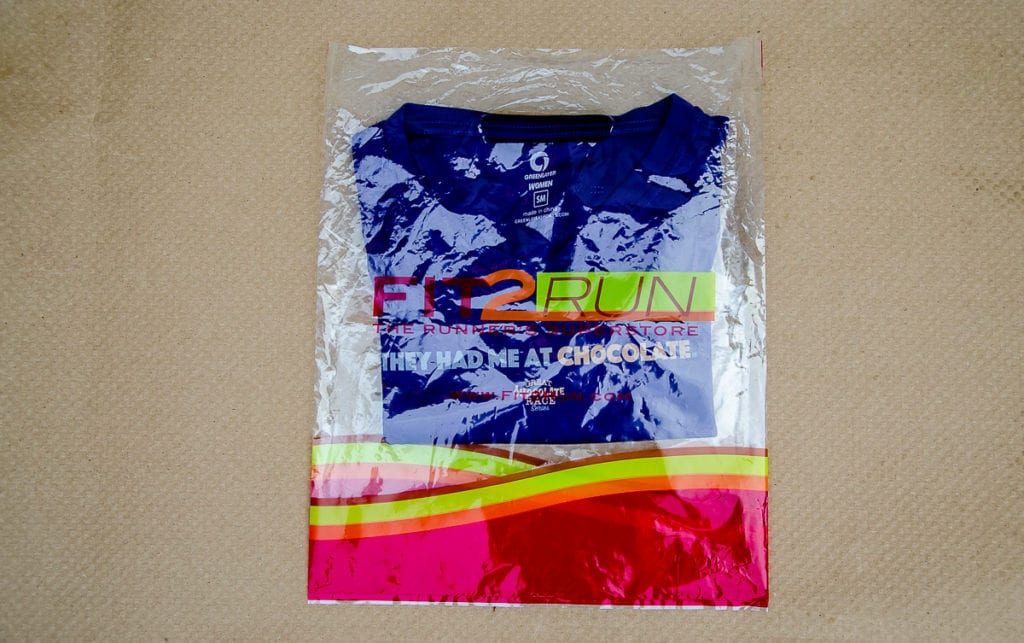 Parking and Arrival
There was plenty of parking, as promised, but getting near to it was a whole different beast. Signage and directions like we are used to seeing around the start and finish line was non-existent and there was a lot of congestion. That is expected with a big race, but I can't think of a way to say this politely so I'm going to let you fill in the blanks. Traffic was not directed efficiently. We did a U-turn, parked elsewhere, locking the car with a hope and a prayer that it would be safe as we walked back to the race start.
The Start Line
The first thing I noticed when we got there was how dark and quiet it was. I'm used to arriving with music and a bustle of activity. There were a lot of people there, but it was a strange atmosphere.  There were no announcements and people were wandering around using their phone screens to light up anything they wanted to see. It's September in Florida so it was warm, humid and kind of eerie, really.
I made my way to the start line and figured with thirty minutes to go, I could just warm up and go stand there and wait. I started talking to some of the other runners, because I talk a lot and like to socialize.  Everyone seemed to be in fine spirits; it was just the lack of atmosphere around us that made things feel different and I soon forgot about that and got wrapped up in lively chatter and some jokes as I connected and exchanged details with new running buddies.
A Late Start
The timing mat was dropped across the start line just before 7 am. I had been watching the empty space there and checking my watch. We were supposed to start at 7 am and this wasn't looking likely. I don't get nervous about running races. Once I'm running, I'm running. That's what I do. But I don't like standing around and I'm a bit of a stickler for time so that is a personal quirk that annoys me.
At about 7:01 an announcement, the first we had heard all morning, was made that we had five minutes before the National Anthem. I heard someone behind me say, "We thought there were five minutes to go, five minutes ago."
At 7:09 am we were told to count ourselves down to start. And after "one" everyone started running. I did not expect this. No air horn, nothing. Again, not a big deal, but from my experience, pretty weird.
The Course
The course was beautiful. I absolutely loved it. Running around the lovely Lake Eola and through the streets of Downtown Orlando in the early morning light was plain wonderful. There was plenty of variety in the scenery. We also ran through some neighborhoods that I've never visited so that was interesting for me, too.
Some of the residents came out and cheered us along, including some adorable little kids with their dad who had set up a Hi Five Station.  Too cute for words!
There were plenty of traffic officers controlling traffic and volunteers helping out and making sure that we always knew which way to go. I wasn't expecting so much of the course to be along brick, so if you ever plan to run this route, be prepared. Most of the bricked surface ran through old neighborhoods and there was no mortar between them, so there were a lot of uneven patches. I had to pick up my feet and watch where I was going.
Water Stations
I don't stop for water on a 10 mile run, so this didn't affect me, but you can't miss a water stop at a race with friendly volunteers offering water or Gatorade.  All stops had water and a few in the middle had some Gatorade. I only know because I heard them calling out as we ran by.
I also didn't pay attention to porta-potties on the course, but did notice one just before the halfway mark. There may have been more, but I didn't look.
The last two water stops did get my attention. Volunteers holding two liter sized water bottles were standing there with no table, water stacked on the ground and asking, "Would you like some water?"  No cups? Were we going to take a swig from the bottle and pass on to the next person?  It was kind of amusing because it was so unusual and tried to control the urge to giggle as I ran past.
Course Measurements
I am usually pretty good at cutting tangents and don't come out of races with too much excess above the measured distance. I was actually almost 0.2 miles short, according to my watch.
Reading comments from others, final distances ranged from half a mile under to bang on 10 miles. This is not something I expect, since courses are measured on the shortest possible distance. This course is described as certified to USATF standards. There is no certification number, but you can see how this could be confusing to someone looking for a certified course. I am not going to quote the information on the page because they have the following stated at the footer:
No portion of this site may be downloaded, duplicated or reposted without express written consent. The copyright is 2016. Probably time for an update on that section.
* EDIT ADDED: From when I checked the page last night to opening it again today, the reference to USATF has since been deleted. So apparently they are reading the comments and ignoring the runners.
I was also unable to find the course map on the USATF course finder section of the website. If I've missed it, please feel free to leave a comment so that I can amend this section of my review as I am only posting what I can find. I intend this to be a fair and factually accurate review.
Since checking this last night, the reference to USATF standards has been removed. We are still waiting for an official update from the race organizers. In fact, nearly 40 hours later, we are still waiting for something … anything … to break the silence.
This really sucks for anyone using this as proof of time for another race.
Adding Insult to Injury
This has caused untold levels of distress to many runners who signed up for the 10 mile race. For those of you not familiar with the runDisney race weekends, you have to submit Proof of Time (POT) to be assigned your corral. There is a deadline just a few weeks away. The POT has to be a race of qualifying distance, which this was.  It also has to be a USATF certified course.  This one appeared to be, by the reference to USATF, which has since been removed from the website. That's a clue.
Many runners traveled for this, paid for a hotel and had other substantial expenses incurred to participate in the 10 miler. Here's the rub: This was the last race in the state before the deadline for submission.
So What's the Big Deal?
Even if results are posted, and by now we are not holding our breath, they don't look like they would qualify for submission. You could argue that people should have checked the course was certified. Well they did what you would expect. They saw the key word up there: USATF …. It should not be necessary to have to go and check the certification. I only know what to look for because I am very involved in the world of running. As a leisure runner, regardless of capability, I may not necessarily have known. I shouldn't have to.
Bottom line is that if you don't have the certification, don't refer to the certifying standards. It's misleading.
If you are not familiar with the Disney races, they are enormous. If you don't submit your time, you are put in a corral at the back. For someone who runs a 7 minute mile being seeded with runners who are doing a 12 minute mile, this is a problem.
The runners in the correct corral do not want to be heel clipped and feel like they are in the way. The faster runners don't want to expend precious energy weaving through walkers. It's the whole point of the corrals and safety is part of the reason they group us where we belong.
My heart aches for these people. They spent money and busted their butts to get a good time to submit, all in good faith. And now they have nothing. So effectively this has wrecked not only one race experience, but potentially messed up a pretty expensive and very large event that they booked a good while back.
It's appalling.
No Party at The Finish Line
This didn't really feel like a finish line. The structure was there. No clock, no clue of time, no atmosphere. I felt like I was dismissed the moment I crossed and took my medal.
Also, the last part of the 10 mile course is shared with the 5K race so runners coming in from the front pack of the 10 mile race had to hop and skip around the 5K folk still coming in. This is common at all races where multiple distances share a finish line and I find it frustrating on the longer distance and also unfair on those who have chosen to do the shorter distance. They should not be made to feel they are in the way.
I would love to start seeing some race directors take the initiative to have the left side of the finish line of one distance and the right for the other.
I crossed the finish line, still oblivious to my time other than what I had on my Garmin, which for once I made sure I stopped promptly. A lovely volunteer handed me a warm bottle of water. I was expecting something ice cold or at the very least, cool.
Sugar Luck
It never occurred to me that I was privileged when I redeemed the tear-off tag on the bottom of my race bib for my box of chocolates. It didn't look anything like the one in the photo on the website, but I ran 10 miles and wasn't turning them down. Besides, they had shiny pretty wrappers and Godiva makes a pretty decent chocolate.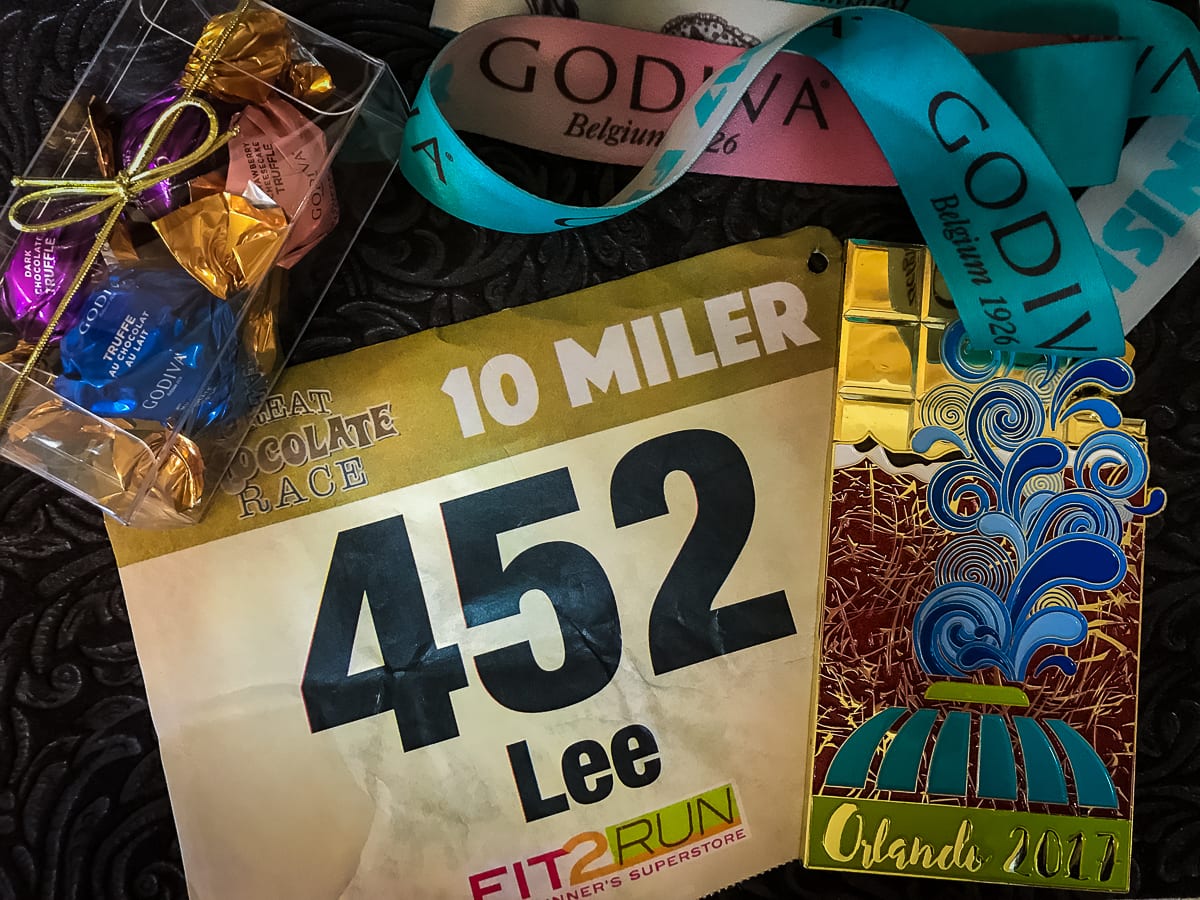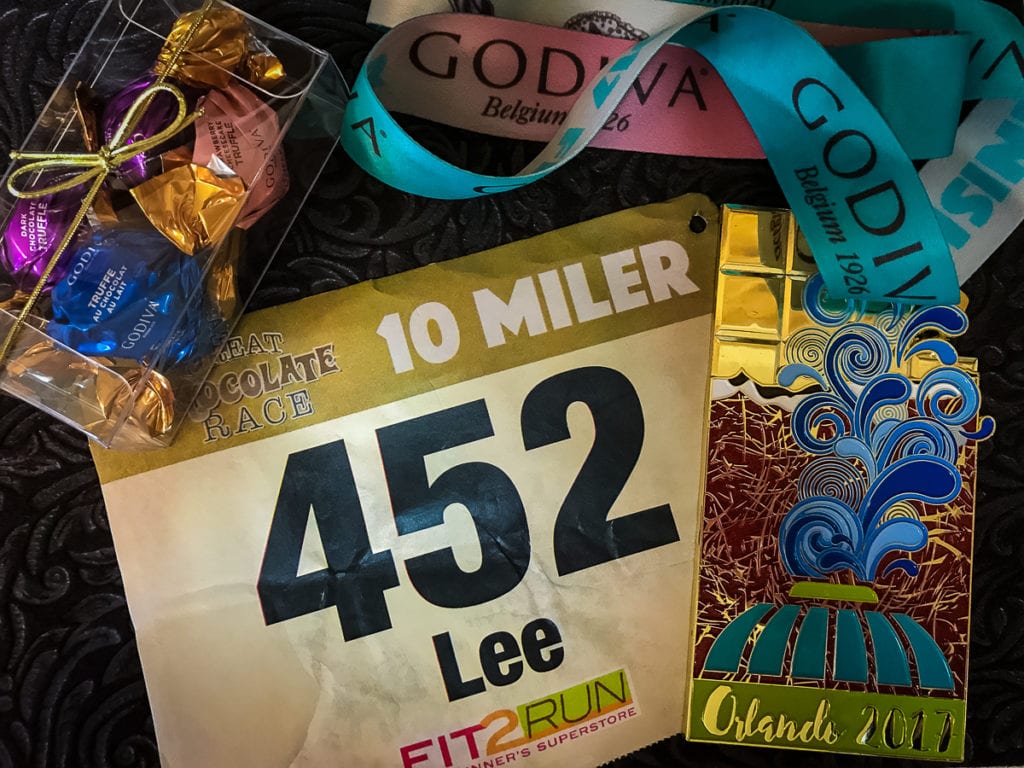 It turns out that I was one of the lucky ones. Those who finished anywhere from midpack or later, didn't receive any. They ran out.  How do you run out of chocolate at a chocolate race? It's kind of the whole point and with the registration system there is the benefit of having a head count. I like chocolate, but if I'd known, I would have left them for someone else. It's not really that important to me and I would have been happy to get a photo of the box and then given them away.
I wanted something in my mouth. Preferably a small piece of fruit and something to drink.  No problem.  I'll go over and see what else they have. There was a table with some really unhappy looking bananas. You know the ones with brown skins that you occasionally give to the dogs?  Yes, like that.
I passed.
Like Water For Chocolate.  Blame it on The Bunny!
I spotted what looked like coffee. Oh yeah!  I could use some of that. Anything to drink.  Actually a cup of coffee would be great right now since I got up at 3:50 am!
I was shocked to discover that they were serving small paper cups of chocolate flavored Nesquik. Are you serious? My face must have given it away as I said, "Kids milk?"
They tried to persuade me that it was really good because it was dairy free.  Now forgive me, but when I've just run 10 miles I don't want to have dietary restrictions imposed on me by someone else. I will pick what I'm going to eat and drink. Dairy free!  The chocolate wasn't dairy free …. I need to just forget that one and move on because I won't understand it.
You've Run Your Race, Now Get Out
That's pretty much the general feel of the finish line area.  Nothing to do. Nobody seemed to be hanging around. No vendors. No snacks or anything else. So I left.
I have never left immediately after a race. I had no idea where we were going to see our results. The email from the previous day had a link that now took me to a blank field. Nothing.
We tried to find people to ask and were told by two volunteers at separate stations that they would be emailed to us in a few hours.  That was strange, because the schedule had an award ceremony for 9 am for the overall winners. I was not going to be one of them, but it is nice to be there to congratulate them.  However the complete absence of results at that stage suggested that this would be delayed and with no incentive to hang around, we left.
Just as well. It turned out the ceremony didn't happen. It's hard to give awards with no records of the times.
If Their Ain't Results, Did it Really Happen?
This is the big one. This is the one that has everyone so upset.
Questions are being raised now as to whether the race times were even recorded. There is nothing on the site. There are place holders and blank fields. RaceJoy didn't work. Well it won't work if the timing mats aren't on or connected, will it? I have no confirmation either way that these results were or were not recorded, but there is an awful lot of suspicion right now. \
Digital data is pretty much instant to transmit. There was no clock. Several people at the start line just before the start watched volunteers fumbling around with the mat. Was it on? We don't know. If it was, why did they cancel the award ceremony and why do we have no results yet?
Questions on their social media page lie unanswered. We were told they would be emailed to us. Nothing. We were told this morning that we would get them today. Nothing.
Do they exist? This is absolutely appalling and the complete absence of any kind of communication, leaving runners to guess, wonder, worry and speculate is simply inexcusable.
It's Not Over Until It's Over
It wasn't all bad. As I said, I was lucky. But that's because I didn't have typical expectations from the race. Mine were social. I also only paid $30 or so to sign up when registration opened up around New Year or just after.  I got my fair value for my money. But I've had early sign up discounts before and got so much more in return.
We are more than 36 hours out from the race.  The social media page has exploded with questions and comments from upset folk, and rightly so. They remain unanswered. We have received no communication at all from the race organizers. Not a word, not a comment and not an email. And still no results.
I had high hopes for this race, but I wouldn't touch it again. I feel like the runners were misled.  We get that problems happen but the whole cargo load on the race plan truck tipped over on this one and there is nothing left but a mess. And it's a mess that's been left for hurt, disappointed and upset runners to clean up.  Fortunately the running community is a pretty awesome one and when stuff goes wrong, we all step in to help. I love my running community.
That's why, although I got off lightly, I feel personally hurt. With runners, what you do unto one, you do unto all.
Great Chocolate Race Series, you screwed this one up royally. I will not be back.