Marathon Training Journal: Day 1
This is the first official day of my training program, although I set yesterday as my start date. Marathon Training, Day 1.  Let the fun begin!
The marathon training cycle is long enough.  If you add or lose a few workouts along the way, it really doesn't make a big difference. It gets swallowed up in the many miles of training anyway so I don't sweat the small stuff.
Day one got off to a much smoother start this year than it did last time.
It started out better than last time!
Last year Hurricane Matthew rolled in on the day that should have been my first day of training. There is something psychological about things going well or badly on Day One that can really mess with the mind. You have to  keep it under control and put things into perspective. The hurricane left such a mess in its path, even although, thankfully, it didn't hit with the force predicted. What was not on my list for my first couple of training days was clearing all the crap that ended up strewn all over the yard.
No such problems this time around.
Thank  goodness for easy runs!
I had misread my plan last night, confusing myself with Day 1 and Day 2 so I thought it was going to be a hard, interval workout today. I was more relieved than I can tell you when I noticed that today was actually an optional run. I'll follow it up with a 45 minute core strength and mobility workout. I've used this training plan before.  I know that Mondays and Wednesdays are pretty tough workouts. It's going to hurt for a couple of days after so I didn't want to do anything too strenuous.
I thought I'd do an easy 8-10 miles, and go by feel.  It ended up being 10 miles at a comfortable pace.  Although I was a little tired (lack of sleep) when I left to do my warm-up before I started, I got back feeling better than I did when I left.
Feed the Runner
As I mentioned before, I don't eat before I head out for runs like this. But I do make sure I have a good breakfast waiting for me when I get home. Marathon training demands a lot from my body. I have to make sure I help it recover in every way possible.
My routine is to prepare something the night before so that I can put it together in a minute or two while coffee brews in the morning. It's so easy to get lazy about recovery food and I am learning to put more and more emphasis on what goes into my body to help me recover after my runs.
My typical breakfast is a cup of soy yogurt or sometimes  full fat dairy yogurt.  I add chopped fresh fruit, a few tablespoons of organic steel cut oats (uncooked – I don't like sloppy food) and sprinkle on some flax or chia seeds, sunflower kernels and some chopped almonds.  I might trade out the seeds or nuts for some nut butter, but this is my quick and easy go-to for after a run.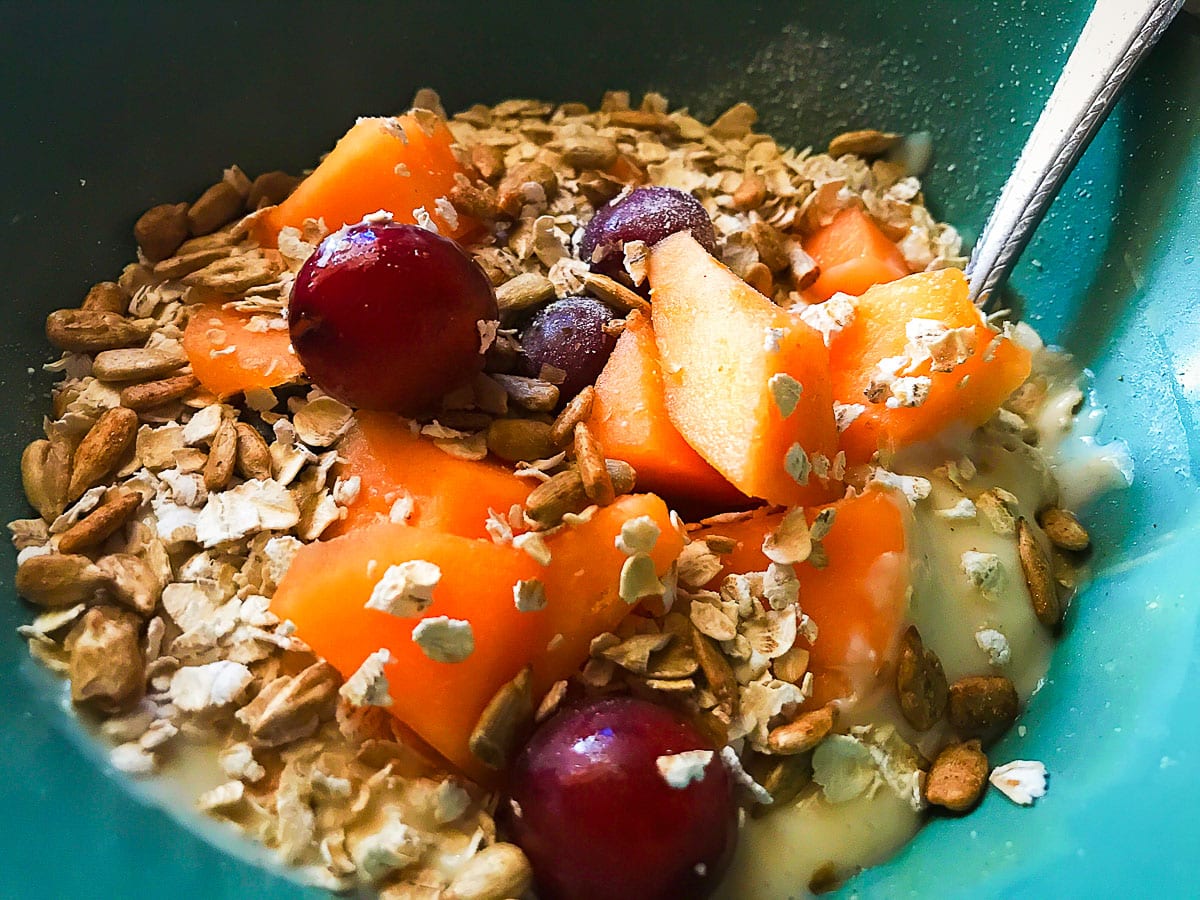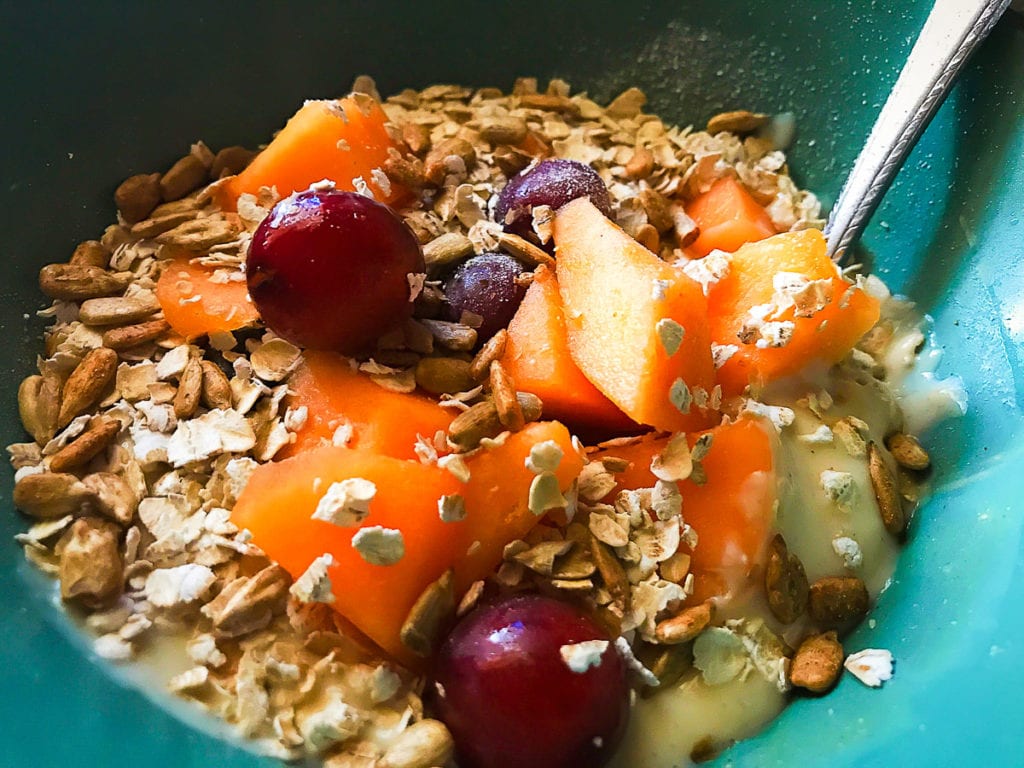 Wait until I start doing long runs. My body sometimes asks for really weird things and I give it what it asks for.  I'm just giving you a warning so you can be prepared.
Miles Alone Are Not Enough
Sometimes time is not on my side and I am forced to push my strength training to later in the day. Life happens and you just have to make the time where you can.  With a twist of schedule today, I was able to take a quick shower and get right into it.
I knew my body was going to be in for a small shock. I've been working out and maintaining my strength and mobility schedule … but I mean just the bare bones of it. I also know more now than ever that the benefits of strength training make sense when explained, but you really understand it on an entirely different level when you start incorporating runner specific strength training into your routine.
I tell you what: I can feel that I haven't been working as hard in recent months as I was when I was in my last marathon training phase. My recovery tools are going to become more loved (and hated). But mostly more loved. I can't afford to skip maintenance and recovery work now. I really appreciate a well rounded training program that puts emphasis on all the facets of preparing for a marathon now. But I don't share recovery tools. At least, not with Milo, the Labrador. He can't understand why I don't throw the cool, green ball for him!
Core Work. It's Going to Burn!
Getting back into a full-on workout reminded me that these little arms need some more work. I know my shoulders are going to be screaming at me tomorrow after the push-ups and side planks.  I expect my abs to be part of the chorus.
I'm sure there will be other muscle groups that draw attention  to themselves in the morning too!  What it also reminded me is how much I enjoy these workouts once I get into them. I love running. But it is refreshing to do something for my running that …. well, that isn't running. And I get music while I do these, which is pretty cool because I don't run with music.
Be Happy and Enjoy It
I always look for the good things within the challenges. Not so long ago I was injured and would have given most anything just to be able to run a mile without pain. I haven't forgotten that and promised myself I would never take my opportunities to work out for granted.
I'll let you know how my arms and abs feel in the morning. Tomorrow serves up a hard run so it's either going to distract me from the pain or make it worse. I'll deal with that when I get there.
Day 1 of my marathon training is complete. Let it be noted for the journal: I survived. And now, I have an appointment with a glass of wine and my foam roller!