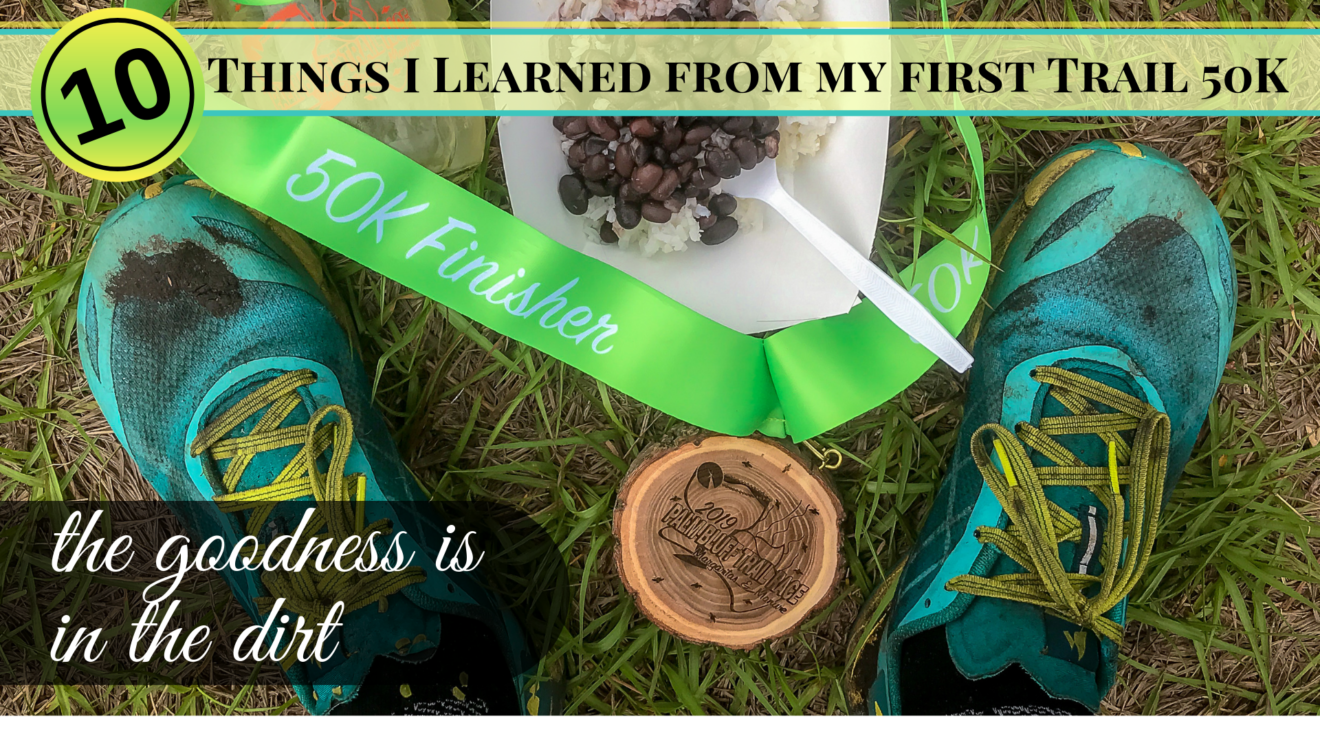 10 Things I Learned From my First 50K Trail Ultra
A couple of weeks ago I ran my first trail ultra marathon. I didn't plan this at all.
No regrets! And I learned stuff from the experience.
This race showed up in my recommendations a couple of days before the event. It was only five days since my recent marathon in Toledo and I was happily enjoying my easy recovery week.
Road running on hard surfaces is my passion. Despite my determination to run an ultra, I spent more time than I care to admit searching for a road ultra to keep me on familiar turf.
It's a comfort zone thing, I think. That ultra is in August and I have not run it yet.
So what in the world got into me?
You Can't Worry About What You Don't Know
When I say this wasn't planned, I mean it. But it looked like so much fun and you know what it's like after a race when you're on minimal to zero mileage, right? Yes, I feel so much more invincible in my running related pursuits when I'm not doing a whole lot of running. As I like to say (because it's true), I can accomplish anything in my mind when I'm sprawled out on the couch with a glass of wine.
So I didn't think about it. I signed up and then got busy trying to work out what I needed for race day. I had the whole of the next day to figure it out, pick up my packet and just jump right into it.
There was no time to think too much, which also means there was no time for my sensible mind to reason that I was about to do something crazy.  Sure, people run these ultra distances – and much further than 50K – all the time. But you're supposed to plan and think about everything you do. Just in case; to be sure you're doing the right thing.
No time. No reasoning. And certainly no time to talk myself out of it.
In fact, I have rarely been this relaxed showing up at a start line before.
It Was a Completely New Experience
Learning is fun.
Seriously, I love learning new things about myself, about others, enjoying experiences.  Some of us are 'stuff' people and others are 'experience' people.  I'll opt for an experience over having something material most of the time. Running is no exception. The more I run, the more I learn about myself.
The course was not too technical. Lots of pine needles, a little soft sand, a stream and some gates we had to open and close behind us as we ran through cow pastures, some loose gravel and squishy areas and plenty of cow poop. There were also some tree roots that were not always visible and a few man-eating vines that tangled themselves around unsuspecting feet.
Basically, you had to pay more attention to the ground than you do on the road.
This race threw up some surprises, which I expected, and I learned a lot. If I could do it all over again, I wouldn't change much at all. I would especially not change just jumping in without trying to reason it. The absence of time to think about it stopped my mind trying to talk some sense into me and made me hold off until I was mentally ready.
I think the only thing I fretted about before the race was not having trail shoes. I'm a road runner. Why would I own trail shoes?
Here are my take-aways from my first trail ultra.
1.  Trail Runners Are Easy Going
Considering this was an ultra, albeit entry level ultra marathon distance, I was surprised at how relaxed everyone was in the starting area before the race. There was a relaxed slant on the pre-race buzz and the absence of the nervous, jittery bouncing around I'm used to before a race, chatter about paces and times (did NOT miss that at all), everyone seemed pretty chilled out.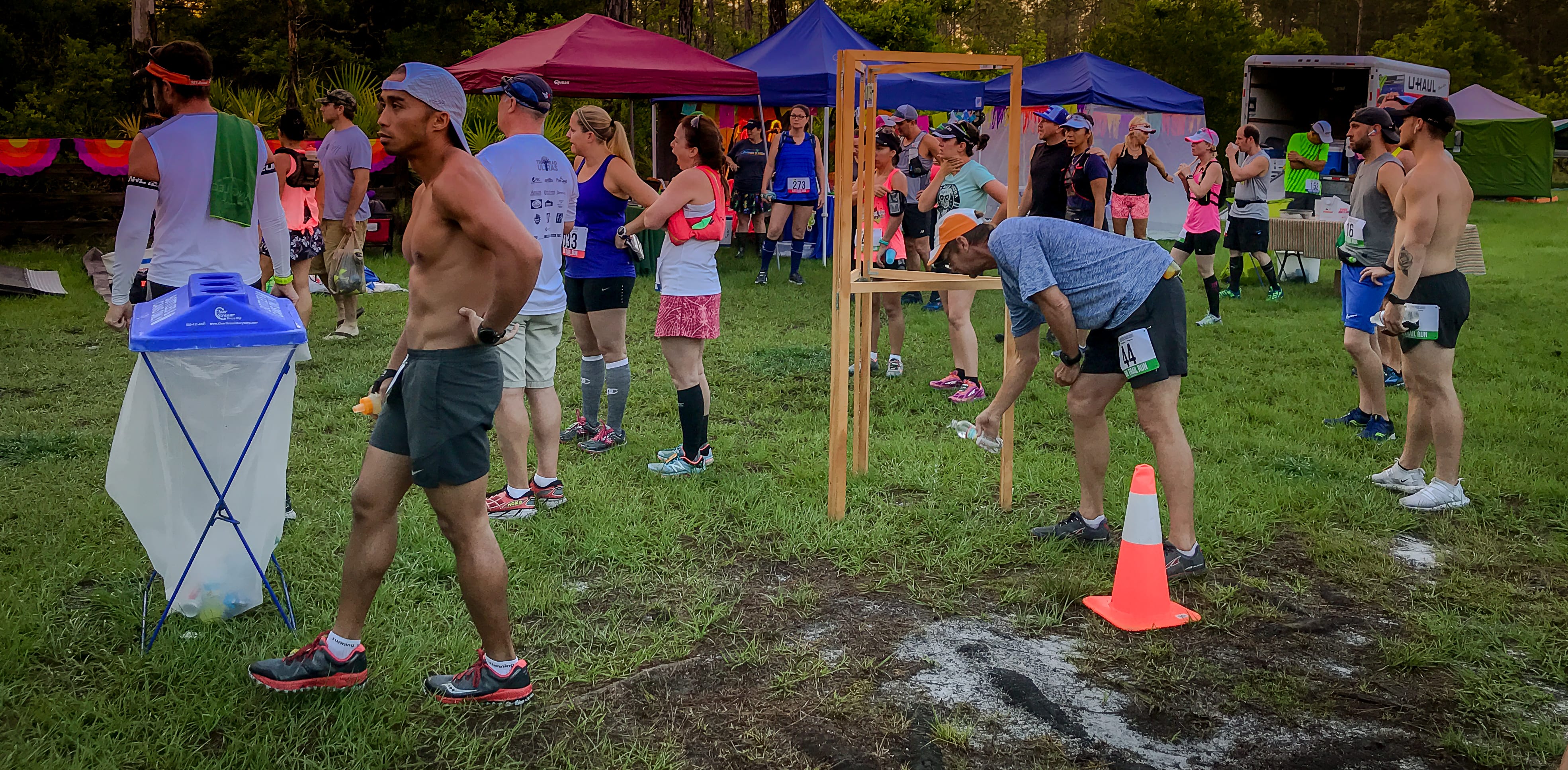 This extended beyond the start line and throughout the course. Everyone, from the runners to the organizers and volunteers were really friendly. There was not the rushed sense of urgency I've experienced in patches during road marathons. It was a strangely calming way to while away the time before we headed to the start.
I loved it.
The social aspect is the main reason I sign up for races, rather than just doing the distance on my own. Running with people, making new friends, having a conversation with someone … these are all things that make me happy and without them, I'd probably just keep doing my thing on the roads without every doing events.
Because this course had multiple loops, we circled back round past the same aid stations a number of times and I got to recognize the volunteers there. Overall, it just felt so much more personal than the races I've done in the past.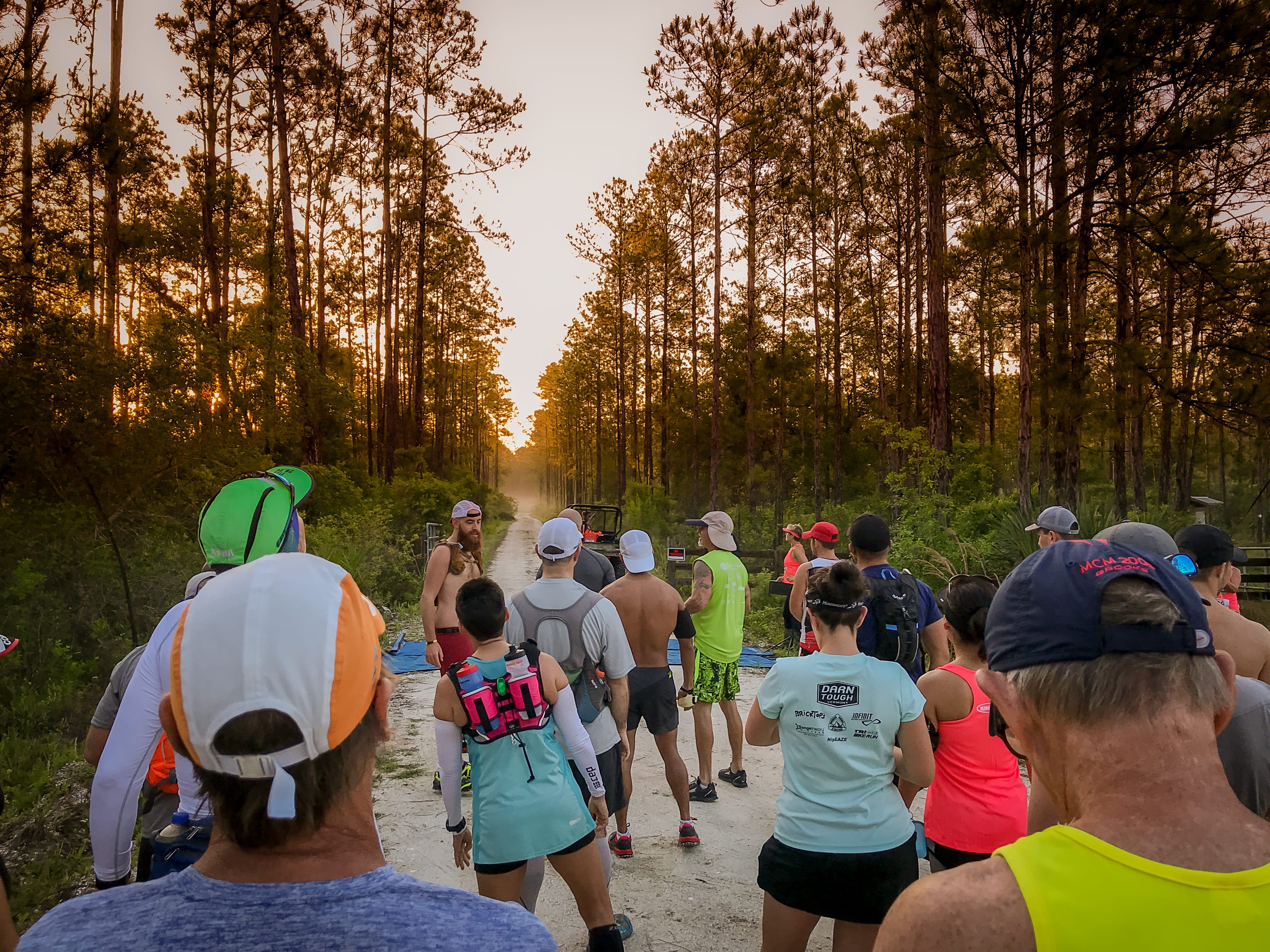 2.  Ease Off On The Pace
I knew this would be the case. There was no illusion in my mind that this course was not going to be run at my road marathon pace. If I was ignorant enough to expect that, I would not have signed up for this so soon after a road marathon.  Subconsciously, I believe it was one of the reasons I wasn't too worried about taking on the longer distance. A situation which forced me to run slower and be more conservative was actually what I needed.
Now, from a practical standpoint, I had the theory but wasn't sure how to execute it. If someone tells you to run slower, it's a pretty general instruction. The first thing you want to know is: How much slower?
So I let others give me a rough guide by watching them.
Learning from those with experience
I'll back up a little here.  Before we started, a couple of runners were talking among themselves and I realized quickly that this is their thing. They are comfortable with being off-road (and were clearly a little better equipped for it with their water bottles, hydration belts or vests and well used trail shoes – none of which I had). I had also gleaned the headlines on who had done this specific race and course in the past.
My strategy was to keep an eye on them in the first few miles and make sure I was always behind them. Ideally, in my mind, to be smart I should not be ahead of any of these runners for at least the first 20 to 25 miles.  Let them lead.
That discipline served me fairly well. As expected, the two guys I had been watching vanished from sight ahead of me within the first 20 minutes.  The two girls were in sight for about 90 minutes, then the gap started to grow. I also took more time at the aid stations, stopping at each one. This is Florida in May. It was hot and humid and hydration has always been my downfall.
3.  Aid Stations are Really Cool!
After this, I'm not sure I'll look at aid stations on a road race the same again!  My favorite part of it was having salty food as options. When I'm running I always crave something bland or salty. I never want anything sweet.
I've never been offered chips, pretzels, cookies and gummies during a race before. I stood at the first aid station for a few seconds taking it all in, hoping there would be more of this at the finish!
The standard water and Gatorade hydration had a few additions.  Coke and ginger ale. Of course this will, no doubt, vary from one race to the next.
I typically don't drink anything other than water on a run. Even a marathon.  Well, nothing else except for any beer that fabulous spectators may offer. Coke is not my thing. I've never liked it, so I skipped that, but I couldn't resist pouring a couple of ounces of ginger ale into my cup at the first aid station. I didn't need it. But the novelty was irresistible to me. Besides, I was in a bit of a rebellious "try anything" kind of mood that day.
I loved the 'mandatory stops' more and more as the miles went by
We had to check in at each aid station for accountability and safety, so for those in a rush to keep going, the volunteers were keeping an eye and getting the numbers pretty quickly. I chose to stop, check in and enjoy this new experience. It was also nice to talk to those helping out there.
As the hours went by, I developed a rapidly growing appreciation for those aid stations. It was hot and I was really thirsty so by halfway through the race, those aid stations became like an oasis in a desert.
I was also slightly overwhelmed by the energy and enthusiasm of the volunteers. They encouraged us, checking with each person to see how we were feeling, what we needed and really, just a sense of knowing that these kind people were truly there for us to do whatever they could to make us more comfortable and take care of us.
4.  Don't Drag Your Feet
This goes without saying. Typically I do lift my feet when I run and very rarely have I stumbled on a curb or tripped over something. Much easier to do on a smooth, relatively even surface; a little more tricky off-road.
Barely a couple of miles in a few runners hit an occasional stumble. Honestly, I may have tripped as well, except that seeing others flailing around a certain spot of the trail up ahead gave me the heads up to watch my step in that area. I also noticed that towards the end of the race when my legs were full of fatigue and my feet and ankles a little less agile, I started tripping more.
In the last 5 miles I fell like a boss. Twice! Actually three times if you count the butt-slide. Just in case nobody noticed it was my first trail ultra!
We had to cross a tiny little stream. The water was so low that someone with long legs and a good jump could probably almost jump across without getting wet. There was a small embankment on a decline leading to the water, which was a little muddy. I had not trouble navigating my way down and over the stream on any of the loops until the last one.
Less agility in my tired little ankles and my over-cautious approach to the decline saw me sliding down on my rear end into the water. Over the last five miles I managed to hook a foot on a concealed tree root twice and both times I hurtled forward and landing flat on my belly. Thankfully the ground was reasonably soft; not gravel or rock!
It's quite astounding to me just how fast I flew through the air before descending with no grace at all into a nosedive, running near an 11 minute mile. If I ran the whole race as fast as I fell, I may have won the damn thing!
5.  Numbers Get Blurry Later On
I've conditioned myself not to think about how far I still have to run and prefer to look at how much ground I've already covered. It's something that comes from the way I initially started running. I had no concept of pace and speed and the only number I was interested in was how far I'd gone. Because I wasn't working towards a specific number, my mission was simply to exceed the highest number of miles previously run.
Now, things do change when you start training for specific distances and obviously there are training distances and perhaps paces, that you adhere to in a more structured training regime.
Still, fresh off the back of a 26.2 a week before, mentally, the first 26 miles were 'known territory' so they didn't stress me out.  Somewhere in the back of my head I guess I expected some sort of internal response to seeing Mile 27; a mile marker I had not yet crossed. Yet I remember seeing it and thinking, "This isn't so bad!"
I can run OR do math, but not both at the same time
From that point on, my brain just disengaged with any reference to numbers. I saw miles 29, 30, 31, 32 … My head willed me to react, but somehow there was no response. Instead of thinking about how far I'd run or how much was still to go (which was a bit vague, since they told us that the course ran long), my entire conscious focus was on where I was and making sure I got to the finish line.
They promised us margaritas at the finish line. That's where I was going. No matter how I got there.
Something shifts when you break through a new boundary. My mindset about distance was altered.
6.  You Share The Trail With Critters
Most people know this anyway, but a reminder doesn't hurt. We were briefed before the race, letting us know what types of critters may be around. No big surprises, but then I'm local to the area. It made me realize that it's a good research point to add to any races I do off of my home turf, though.
Wildlife typically leaves people alone as long as we don't mess with it. Aside from a lot of bugs and seeing the tails of a few snakes trying to get away from the thundering feet along the trails, there wasn't anything to write home about until less than a mile from the finish.
Usually snakes get away as soon as they know there's movement around. They don't want to mess with us any more than we want to tangle with them. The exception showed up for me on the final mile stretch. So close to the finish and a large water moccasin lay stretched out clear across the path ahead of me. As I approached, it looked like a log, until I saw it move. Thankfully, I was still at a reasonable distance.
Nice way to knock out the final stretch of my first trail ultra!
I stood there waiting, expecting the snake to get out of the way. The dude wasn't going anywhere. In hindsight, I guess I was exhausted because my instinctive responses were a little off. My mind told me this was really not good, but there was no physiological response.
Armed with a bottle of beer I snagged at the last aid station, I stood and waited, not taking my eyes off of the snake. After a while I checked my watch. Several minutes had gone by and no movement. I felt impatient, but not totally stupid and I wondered if I should go back to the last aid station or just wait for someone to run with me.
Perhaps I didn't make enough noise on approach to let the snake know to move.
I looked behind me.
Nobody.
I was completely alone. Ten minutes ticked by.
Retracing my steps to find an ally seemed like the best bet. Standing around was making my muscles feel tight and sore. As soon as I made the decision to return to the last station, the darn thing slithered off into the bushes. I gave it a few seconds to be as far gone as possible and knock out the last mile.
7.  Get Comfortable Running Alone
I do my training runs early in the morning and I'm used to running alone. I leave before sunrise and I really enjoy the solitary time where my head can settle itself before the day starts.
When it comes to races, I want some social time. This will vary depending on each race, the course route, number of runners and whether the race has multiple distances sharing the same course. What I have learned, even with marathons, is that the longer the distance, the more chance you'll end up doing some solo running, especially in the later miles.
This race had several different distances sharing the course.  There was a staggered start, with the ultra runners setting out first. There was also a half marathon and two 12K waves – one competitive and the other was a fun run/walk. This meant the first few hours there were plenty of people around.
It's fine. I have a running buddy
I ran with a wonderful girl from the first aid station through to around Mile 13. We chatted continuously the whole way, exchanging running stories, family stories and just getting to know each other.
Trail running and ultra distances are not new to her and there was some comfort and reassurance running with someone who had done this before.
I don't know exactly when or how we got separated. We were on a single track and she slipped in just behind me. She told me she was starting to suffer with the heat and we agreed that we would take some time at the next aid station.
And then I lost her
The temperature was climbing rapidly and it was humid. The chatting stopped and I didn't want to make her talk, knowing she was struggling with breathing. I started to pay close attention to my need for some electrolytes and decided to just keep moving until I could refill my cup with some water and pop a salt tablet. When I arrived at the aid station, I turned around and she wasn't there.
I hung around for a while waiting for her and still didn't see her.  Feeling a little torn and guilty, I took a slow start, looking back constantly over my shoulder in case she appeared.  But she didn't.
By the time 20 miles approached, I was running solo almost entirely. I started looking forward to the aid stations, just for the company. It was a bitter-sweet mix of loving the peace and freedom of being outdoors and a sense of sadness that I had lost my running buddy from the earlier miles.
I missed my new friend.
I missed her conversation and company.
The gaps between seeing other humans grew. For the last 5 or 6 miles, other than the fabulous people at the aid stations, I didn't see a soul.
There was something peaceful and serene about running out there on my own. I do believe that knowing I'll face some solitary miles on future races like this will help me mentally prepare for it better.
8.  Agility and Stability Work is Essential
Running on uneven surfaces is a whole new beast. My familiar, pretty even-surfaced concrete and asphalt is mindlessly predictable on the feet and joints. I am pretty good with my mobility work and do plenty of stability drills and exercises several times a week.
My first trail ultra hinted that what I'm doing right now is not enough. At least, not if I want to do more of these races or increase my distance.
As the miles rolled on it became more and more difficult to hold onto the agility in my ankles and feet. The tiny muscles screamed with fatigue and when my brain signaled to them to bend, twist or shift, they were either slow to respond or didn't get the message at all.
It was easier to notice this because we ran three loops and there were certain points where I noticed that each time I returned, my legs and feet were less co-operative and more clumsy. There were several areas where I clipped with quick, light feet over the roots, leaves and gravel the first time and by round three, I was carefully walking over those same spots, with absolutely zero confidence in my ability to navigate the surfaces in an upright position.
As I mentioned earlier, I took an unplanned horizontal approach to some of those spots. My finisher photos sport some of the remaining dirt as evidence of my need to up the standards as far as my mobility work goes.
It's a learning curve. If I learn something from my mistakes, it's worth the experience.
9.  Recovery May Be Different to Road Running
I'm sure this is a no-brainer for anyone familar with off-road running, but I hurt in places that usually don't hurt after a marathon. Then there were muscles that usually yell at me, that didn't.
I mean, my shoulders hurt like after a strength session at the gym.  Really? Shoulders? It's probably a sign that my form totally sucked once the fatigue set in. I also think that the iced wash cloths they gave us at the aid stations – which seriously felt like they were delivered from heaven, fresh every time – had something to do with it.
No, not the welcome coldness, but those cloths slipped around as the moisture evaporated within minutes in the hot sun and I was trying to hang onto it by tensing up my shoulders. I got smart towards the end and started tucking the ends into the back of my sports bra to hold it there, but I think the damage was done by that point.
Little muscles in my ankles and lower calves and shins ached as well. I do sometimes get that post-marathon for a day or so, but these were not the same little areas.
I think the strangest thing for me was how sore I was, just hours after finishing and how quickly I felt great again.
Typically after a marathon, I'm OK with not running for five to seven days. Cross training, recovery and mobility work are just fine by me.
Two days after my first trail ultra, I was totally hyped up, body felt great and I was champing at the bit, ready to run again. So I did.
I'm sure this is going to vary from one race to the next. You just don't know how you'll feel after a race, even if you are well prepared for it. But this caught me by surprise and reminded me to keep an open mind and take each day as it comes in the week or two after a big event.
10. It May Be Addictive
We are all unique in what draws us in and fuels us to push the boundaries.  For some of us it's distance. For others, it's speed. Many runners enjoy the challenge of both.
My runner's high definitely comes from distance. Every time I push a distance boundary, I'm determined to do it again and see how much more I can do. The speed stuff? Not so much. I've run a few short distances and pushed out my fastest time on them and I have no inclination to do it again. But this long distance thing?  I'm totally hooked!
If distance is your thing, or part of it, there's a good chance you won't want to stop at just one ultra. I have more on my calendar already.